I'm totally ditching the C25k program. I'm going out on my own.
Running and walking to the beat of my own drum.
I managed to get in all my runs despite the wicked temperatures and heat advisory we had most of the week. During one of my runs, I even ran through a few sprinklers to help beat the heat.
My decision to ditch the C25k program came out of total frustration. The program worked well for friends, but it just wasn't working for me. I kept staring at week 6 day 3, knowing that to complete it, I'd have to run for 22 minutes without stopping. In reality, I've done it before so it shouldn't have been that big of a deal, right?! But it was. Every time I have gone out and had some of my best runs, it's when I wasn't following the program. I simply turned on the tunes and my Nike+ app and ran. Just like that. I wasn't focused on when I'd be able to walk. During the runs, I was able to focus on my breathing and running like a ninja. I was able to just simply "be" in the moment.
So on Sunday, that's what I did. I didn't turn on the C25k app. It was just me and my tunes and I ran and I ran and I ran some more and it was wonderful! I ended my run feeling refreshed and wicked proud of myself for doing it. Then I did the same thing on Monday and then again on Wednesday. Three solid runs, even if it was wicked hot and muggy. It was a great feeling ending the week (I had planned on squeezing in another run but with the weather we've been having, it just didn't happen) on a high note rather than getting down on myself.
Starting tomorrow, I'm going to try and add some mileage to my runs which means I'll also be adding additional time. So far I've been averaging about 2.2. miles. I'd like to bump that up to 3 miles. I think I'm ready for it and if I have to walk a little more than I'm used to, I'm totally cool with that.
I thought I'd leave you this week with some fun motivational running pictures/meme. Aaaaaaaaaaand......did you know there is a
Ryan Gosling Tumblr blog
for girls who run!!! Seriously, I'm pretty sure I just died and went to runner heaven!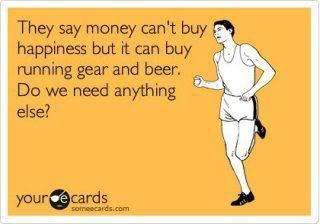 Happy running!