run
·ner (noun)
A person, animal or thing that runs, especially as a racer.
If you've read any of my previous posts in this series, you may have noticed that I have had a hard time calling myself a "runner". It's a concept that I struggle with....a lot.
Through friends, family, media and at times my favorite running magazine, I have been led to believe that calling myself a "runner" would always be considered to be a joke. People wouldn't take me seriously when I told them "I run almost every day". Why? Because as I've been told time and time again that I just "don't look like runner".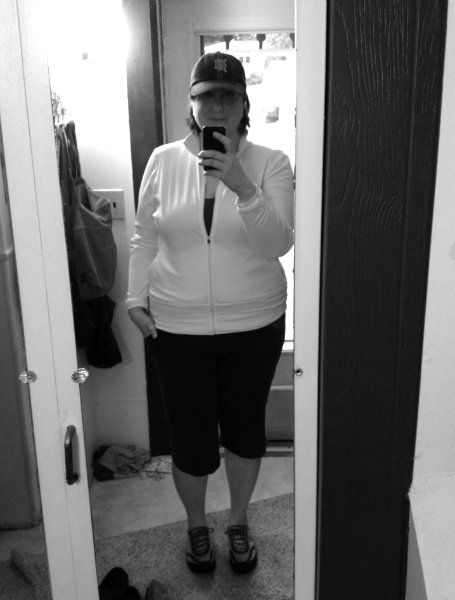 All suited up and ready for a morning run.
Runners are long and lean. They are fast--logging 6, 7, 8 minute miles, lamenting their 9-11 minute miles on an off day. Runners are able to step out of their front doors and run for miles without walking, without their legs feeling like jell-o or like their lungs are on fire. Runners look good in spandex and compression shorts. They run Saturday morning races. They log their weekly miles and talk about their splits. They are competitive, even if it's only with themselves. Runners make running look easy.
I however, am not a runner.
Or am I?
Over the last few months, I have had to re-evaluate everything I thought being a "runner" meant. I have had to re-evaluate the definition and standard of which I thought it meant to be a "runner". I have also had to re-evaluate how I look at myself.

I am not long and lean. Spandex and compression shorts accentuate all my lumps and bumps. I turn bright red and tend to look like a giant tangerine (bright orange running shirt so vehicles and hunters can see me) lumbering down the road. On a good day, I average just under a 13 minute mile. The thought of running a race scares the crap out of me and more times than not, I have to walk for a few minutes to catch my breath.
But I'm still a runner.
I'm a runner because I love to run. I love being able to shut out the rest of the world--it's just me and my music. I love the feeling of accomplishment because I tackled a daunting hill or manged to run my entire route without walking.
I love that running reminds me that I am able to silence the critics because I'm so much more than who they assume I am. That I am independent. Free. Strong.
I love that running reminds me that there is no "perfect" or "normal". I love that running is for everyone. No matter their size, shape or pace.